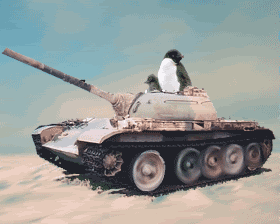 I don't know what's going on with my head, but I'm actually anticipating doing the presentation on it. Or maybe I'm anticipating the fact that we'll have half days on the presentation days. Or both? Ah, who cares. Bottom line is that I got it done!

I haven't been doing too much, other than that. Well, that and reading the Bob and George and 8-bit Theater webcomics. Both are great video game-based comics, though some of the humor for them was spoiled for me by the guys at my school, but that still didn't take away the enjoyment from them. I need to go read more of those soon tonight.

On Saturday I showed my parents "Der Fuehrer's Face" (that old cartoon about Donald Duck having a nightmare about him being a Nazi) and they thought it was hilarious. Then I watched the Wallace and Gromit DVD we ordered from Amazon.com and Chicken Run. Both were awesome. It was a very claymated day that day.

Speaking of Amazon.com, my Gunsmith Cats manga arrived with the DVD as well. Unfortunately, I just realized that I had ordered the wrong one. For some reason, I thought that the one entitled Misty's Run was the second book of the series, but it ended up being the ninth. Misfire was the one I should've ordered. I felt very...stupid that day. And I'm having a strong craving for Gunsmith Cats manga, and, well, the only one I have is the first. This makes me sad. I feel like...a PENGUIN FASTING? O WAIT.

Going to go read more webcomics and watch episode four of Gankutsuou which I haven't gotten around to watching despite all the opportunities I had to watch it.

EDIT: I re-uploaded the nazi!Donald cartoon over here.