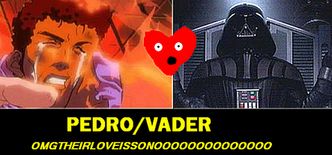 STAND UP AND SHOW YOUR SUPPORT BITCH.






Explanation for those boggling at this. Pedro is a character of the Japanese animated comedy series entitled Excel Saga. Pedro is the father of a wonderful son and the husband of a sexy wife. Unfortunately, poor Pedro is often caught in the worst situations shouting "NOOOOOOOOOO!!!! at the top of the lungs as he suffers through the great peril of it all.

Darth Vader is the antagonist of the Star Wars films. But this little bit of information is unimportant. What's important is what he yells out towards the end of Star Wars Episode III: Revenge of the Sith. One word. Yes that word. "NOOOOOOOOOOOOOOOOOOOOOOOOOOOOOOOOOOOOOOOOOOOOOOOOO!!!!!" Except with less stress on the 'o'. In fact, I probably should have used that "NO~" example for Pedro as Pedro tends to put more stress on the 'o'. Vader does put some pressure on the 'o' as well, but not as great as Pedro's. And I am rambling.

Why Pedro/Vader? They both lost someone they were in love with dearly. They both enjoy yelling "NO~" with great stress on the 'o'. They're both quite pitiful. And that's why they deserve each other.

Make sense? Yes? Good!